Tributes to Two Remarkable Men
Richard Andrew Young and Don Lynn Wood both lived in Utah and both had CF, but they did not know each other. Don died in 1997 in his 40's; Richard died in 1998 in his early 20's. Nevertheless, Valerie Hudson from our Institute was profoundly affected by both men. The links below will take you to their tributes.
Hudson's son Tom penned an essay about his life with CF in 2021. He has a double whammy: CF and a learning disability. And yet he is happy about his life, and looking forward to all that it will bring. Here is his essay:
Press Coverage of the Institute's Activities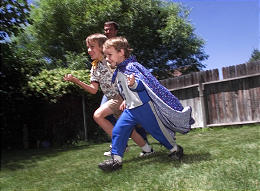 Just as a coda, the UVICF did receive some noteworthy press coverage around the time of our clinical trial in Utah. Only one news link is still active; the others have expired. Nevertheless, for posterity's sake, we list these here:
1) Deseret News article, 10 June 2001: "Nonscientist tackles cystic fibrosis" by Lois Collins.
This is a short article summarizing the events surrounding the publication of the FRBM article in June 2001. Two photos are included.


2) Brigham Young University news release, 2001, with two sidebars, Sidebar 1 and Sidebar 2:
This piece is also about the June 2001 publication, but is much expanded. It has links to two sidebars, one about the science behind the hypothesis, and the other about our "medical odyssey."


3) Woman's Day article March 2003: Unfortunately, LINK HAS EXPIRED
This is a nice little article discussing our family and the reserch being done on glutathione use in CF patients. It also gives contact information for Dr. Clark Bishop, the pulmonologist who performed the 2002 clinical trial of aerosolized buffered glutathione in CF persons.


4) Today Show Segment, June 2003: Unfortunately, LINK HAS EXPIRED, but an article about the segment is here.
On June 17, 2003, the Today Show aired a segment about our family's journey with cystic fibrosis and glutathione. If you have the right software, when you get to this site, click on the "Play Video" button and you can see the segment. It is accompanied by a written synopsis.